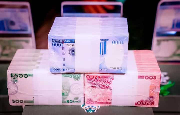 CITIZENS COMPASS- A woman was seen displaying and hawking the new Naira notes in Ibadan, the capital of Oyo State.
The event took place on Saturday.
Recall that the new Naira notes went into circulation on Thursday, 15 December 2022 but the notes were very scarce in circulation at the moment.
Nigerian banks are struggling to provide it in abundance as demands overshoot supply. Checks show bank tellers mixed a few notes with the old ones for over-the-counter withdrawals while automated teller machines continued to dispense old banknotes.
Despite the shortage, a large wads of the new notes have flooded party locations, with hawkers demanding N200 charge to sell N1,000 of the redesigned notes.
The report revealed that at a party in Ibadan, Oyo State on Saturday, a woman was seen freely hawking the newly redesigned wads of N200 bank notes unhindered.
Many Nigerians have taken to the social media to express their displeasure about this.
–Tribine