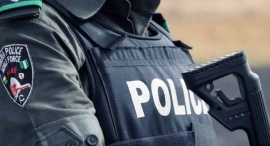 Community
Woman seeks justice over indecent assault of three years old girl 
CITIZENS COMPASS – A mother of two has sought for justice with the Ogun State Police Command over indecent assault on her three years old girl. 
According to the mother, hee daughter was indecently assaulted by a 17 years old medical student, Great Orogun in Ibafo area of the State. 
This was contained in a statement signed by spokesperson of the Command, Omolola Odutola on Monday, August 21, 2023. 
"On the 18th of August at about 1940hrs, a case of assault on a girl child aged 3yrs, was reported to CSP Kazeem Solotan the Ibafo Divisional Police Officer,  that one Great Orogun 'm' age 17yrs and a medical student of yet to be ascertained University in Lagos assaulted her three years old daughter at a birthday party, in the suspect's parents house, were the organizer's of the party are tenants. 
"According to the mother of the three years old girl, she alleged Great Orogun of abusing her daughter sexually by putting his male genital into the daughter's mouth. The innocent three years old girl was answering questions put across to her by her mother, when the mother in a friendly conversation asked her three years old daughter if she enjoyed the party, in her little voice, the three years old girl innocently narrated what Great did to her. She further said Great closed the door of the kitchen, lifted her up and put his tongue into her mouth. 
"At the wake of Sunday morning 20th August 2023, an NGO called that they want a detailed investigation into the case. The mother of the girl child has further stated that her daughter is traumatised and has shown signs of psychological breakdown, recounting to herself even at her quite. The mother of two has written in her statement that she wants justice served. 
"The Commissioner of Police Ogun State Police Command Headquarters CP ALAMUTU ABIODUN MUSTAPHA psc have been briefed and he has ordered the immediate, investigation into the allegation, affirming the child's right, and that he will not tolerate an iota of abuse of any sort, against any child in his State especially when he mentioned rape as a human right violation as one of the top crimes he will tackle as Commissioner of Police. 
"He has assured of sterling investigation while enjoining, parents to imbibe authoritative parenting skills, in order to abate the rising trends of sexual violation incidents in the State."