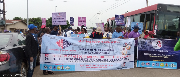 CITIZENS COMPASS- AGGRIEVED workers of the Egbin Power Plant in Ikorodu area of Lagos State, on Wednesday, protested against poor working conditions and welfare packages by the company.
They accused the management of making life difficult for them.
The workers carried placards with inscriptions including "Enough is enough. We need good salary structure," "Give us condition of service," "We can't continue to be a slave in our country."
The protesters condemned the attitude of management towards workers, union leaders saying that they have decided to occupy the power plant until their demands were met.
In a similar scenario, the aggrieved workers occupied the entrance of the power plant chanting and displaying their placards.
Egbin Power Plc is the largest power generating station in Nigeria with an installed capacity of 1,320 megawatts consisting of six units each.
Recall that a similar protest occurred on November 16, 2020, as the workers protested against unfair labour practices.