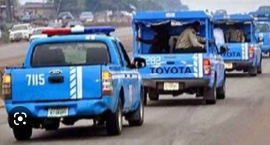 CITIZENS COMPASS – A ghastly accident which occurred on Thursday, June 29, 2023, along Benin-Lagos expressway, has claimed the lives of 11 persons.
Many others were said to be injured in the accident which occurred on the Edo State section of the expressway. 
It involved a Toyota Hiace 18 seater bus and a truck belonging to Dangote cement.
It was gathered that the accident occurred at about 11 am at the Ovia bridge due to a failed section of the road and the poor state bridge which runs across the river.
The truck was said to be heading towards Benin from Lagos on top speed when it rammed rammed into the bus that was said to have slowed down at the failed portion of the road. 
11 persons were said to have died on the spot while many others were injured. 
Narrating how it occurred, an eyewitness said, "The Toyota Hiace bus going to the east en route Edo State slowed down at the bad portion of the Ovia river bridge, but the Dangote truck that was on top speed rammed into it, killing some passengers and injuring others."
It was gathered that some of the occupants of the bus and victims were coming from Lagos after attending a programme organised by a popular Lagos-based church.
The Sector Commander, Edo State Federal Road Safety Corps (FRSC), Paul Okpe confirmed the accident.
He said, "We had a crash on the bridge at Ovia River this morning. A truck ran into a Toyota Hummer Bus and 11 persons lost their lives and eight persons injured. Both the dead and the injured were moved to the University of Benin Teaching Hospital by our ambulances. Three vehicles were involved.
The truck ran into the Hummer but after narrowly missing a Kia vehicle. The three vehicles are in the police station not far from our office at the Toll Gate.
"For the possible cause, we are leaving that to our Accident Investigations department to establish, but it was the truck that ran into the vehicles and the casualties were in the bus," he added.