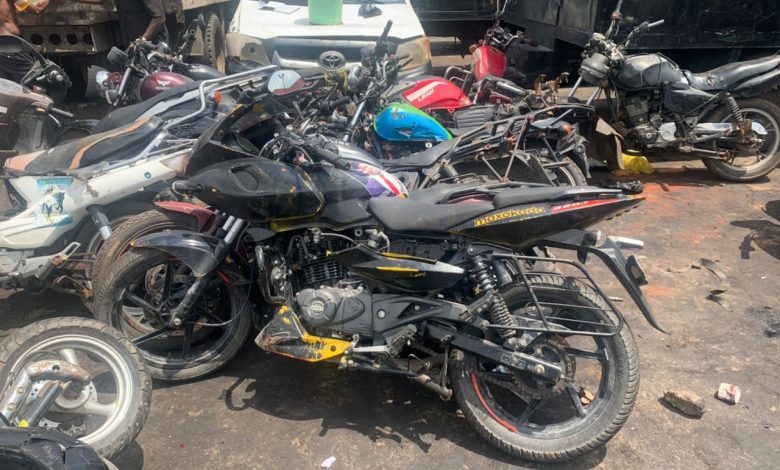 Community
Multiple accidents in Lagos as Police enforce Okada ban
FIVE vehicles including a truck were on Tuesday, involved in an accident at Onipanu, Ikorodu Road, Lagos as a team of Policemen enforced the ban on commercial motorcycles popularly called Okada.
The incident also led to a clash between the Policemen and some Area Boys.
The incident occured inward Fadeyi at about 3pm.
Vehicles involved were aToyota Corolla, Sports Utility Vehicle SUV, and two other vehicles which were all hit by the truck whose driver was on top speed.
An eye witness, Mr Adio Hameed said the incident occured when the Policemen were to effect the Okada ban on a dispatch rider who did not meet up with the Traffic Rule before plying the expressway but in the process, he was able to evade arrest.
"The truck driver was journeying inward Fadeyi when he saw the Policemen chasing the rider but out of fear, he hit four vehicles and this led to a serious argument among the vehicle owners just as this led to a traffic jam which stretched beyond Obanikoro.
"Out of curiosity, a woman brought out her phone and started recording the incident but the Policemen ordered her to stop the recording incident.
"They also seized the phone but before further steps could be taken, some Area Boys trooped to the scene to take advantage of the situation and insisted that they return the phone to the woman.
"The scene later turned rowdy such that the Policemen had to fire canisters to disperse the crowd.
"This affected the truck driver who fell on the ground sneezing profusely.
"I was also driving at the time and was stick in the traffic for hours.
"Normalcy later returned as the Policemen reinforced and dispersed the Area Boys.