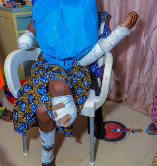 Health
17 yr- old bride suffers broken limbs during attack by spouse
CITIZENS COMPASS– FOLOWING an alleged attack by her spouse, a 17 years old bride, Malama Hauwa Mohammed, has suffered broken limbs in Kebbi State..
The attack was said to have occurred   at the couple's residence in the state..
Hauwa's matter was noticed recently when members of the state's Technical Working group on Gender-Based Violence paid her a visit at the Federal Medical Center Birnin Kebbi where she is receiving medical treatment following the injuries she sustained.
Narrating her experience, Hauwa said she got married to her husband against her will adding that her husband is in the habit of staying away from his matrimonial home.
She said on the fateful day, he arrived home as usual and before she could say jack, he attacked her with a machete which hidden in his pocket as at the time of arrival.
Touched by Hauwa's narration, the state officials said the incident is already receiving attention with the government as it had been formally reported to the police.
They promised that the perpetrator will be apprehended and proper investigations will be carried out to ascertain the cause of his actions and he will be charged to court accordingly.
It was learnt that the husband has since gone into hiding.
A source in Kebbi said the Police in Kebbi have lunched a manhunt for the suspect.