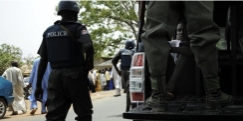 CITIZENS COMPASS —A 22- year-old tailoring apprentice, Hakeem Mujib was beaten to death in Lagos following allegations that he was a spy to armed robbers. 
The incident occurred on Sunday, on Lagos Island.
It was gathered that the deceased apprentice was early Sunday beaten to death early after he was accused of being a spy for armed robbers.
Hakeem was reportedly returning from an errand for his boss when the incident happened at Obadina Street, Lagos Island.
The late apprentice, it was gathered, had gone to a 2-storey building situated at 7a Obadina Street, of Obe Street to rest with his friend, Kehinde, around 2 a m on Sunday while returning from an errand from his boss.
According to residents of the area, the boss of the deceased, Hakeem, who has his office around Massey Children's Hospital, sent him to do some linings around Obadina Street.
A resident of the area, Alhaji Adeshina, told the Nigerian Tribune, " The incident happened around 2 am .His boss told him to go and add lining to some clothes,"
" On his way coming, he wanted to stay with one of his friends,Kehinde,who is also an apprentice,where Hakeem was killed ." the resident added
The resident also stated, " When he mentioned Kehinde, his friend, and identified himself to be tailoring apprentice too, the tailors who didn't know his friend accused him of trying to spy for armed robbers who may later invade their shop and rob them of their belongings."
The tailor reportedly descended on the 22-year-old boy and beat him to death before dumping his lifeless body on the road.
When contacted, the image maker in charge of the state police command, Benjamin Hundeyin, said that he was yet to be briefed on the incident, as at the time of filing this report.
–Nigeria Tribune