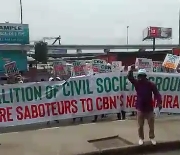 CITIZENS COMPASS– THERE are indications that concerned Nigerians and human rights bodies may begin nationwide protests starting from Monday, February 6, 2023 against scarcity of new currencies in the country.
A cross section of Nigerians who spoke with our Correspondents opined the need for protests to press home their demand.
Some respondents told Citizens Compass that the nonavailability of the currencies has affected their daily routine as they spend a number of hours queueing at various banking halls and Automated Teller Machine terminals in search of the currencies coupled with scarcity of fuel across the country.
Mrs Tawakalitu Bamidele said the ATM machines are not dispensing the new notes while people have deposited old currencies with their banks.
An artisan, Chris Okpokpo said he visited five banks to enable him get some cash but he returned home disappointed.
Our Correspondents visited some banks in Ikorodu, Ajah, Surulere, Oshodi in Lagos State and the Ogun State axis on Lagos/Ibadan Expressway where a large population of customers were seen lamenting poor network and services.
The situation seems similar on various social media platforms monitored by Citizens Compass as people complained bitterly about scarcity of the new notes.
Some of the comments on the social media platforms are, "Oyao , we are ready ds is too much now, its only d poor pple dat are suffering what kind of country are we in, let me know where n time we are going to meet.
"If u are against what CBN is doing let join hand and protest against them on Monday let brocast to all network."
It was learnt that some banks have issued warnings to their staffers against issuing of new currencies although reasons for this was not stated.
At some Point of Sales (PoS) terminals visited by Citizens Compass, it was complains galore as some operators charged exorbitantly while some were out of cash.
For instance, some charge N1,000 on every N10,000 while some charged N3,000 on every N20,000 transactions.
Many traders lament poor sales as customers did not have cash for purchasing.