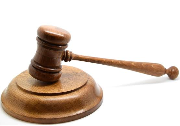 CITIZENS COMPASS – A 61-yr-old pastor, Famakinwa Ajayi has Bern sentenced to18 years imprisonment for defiling and impregnating a 16-year-old girl.
It was learnt that the victim is currently nursing a baby for the cleric who is a member of Christian Association of Nigeria (CAN), Ayede Ogbese, in Akure North council area of the state. 
Ondo State High Court recently gave the judgement after listening to the matter. 
He was charged on a two (2)-count charge of unlawful sexual intercourse with a child, contrary to Section 31(1)of the Child's Rights Law of Ondo State and sexual abuse and exploitation contrary to Section 32 (1).
The suit No: AK/195C/2021, was filed on behalf of the Ondo State Government by Mrs. Helen Falowo (Assistant Director of Public Prosecutions, Ondo State Ministry of Justice).
Justice Yemi Fasanmi, while delivering judgement, discharged and acquitted the defendant on Count 2 but found him guilty on Count 1 and proceeded to convict and sentence him to 18 years imprisonment.
Falowo said that the defendant defiled and repeatedly had carnal knowledge of the victim at his house in Ayede Ogbese township in Akure North Local Government Area of Ondo State, where the family of the victim were tenants.
The defendant was also alleged to have raped the victim at the market square where he took her on the pretext of delivering her from demonic spirits.
"He continued in this dastardly act unabashedly till the innocent minor became pregnant in October 2021.
The defendant, however, confessed to having slept with the victim once in his living room before he was charged in court.
Meanwhile, upon being briefed of the incident by the Ayede Ogbese Women Vanguard of the town, a renowned women/human's rights and wife of the monarch, Olori Olufunmilayo Nejo-Oluyede, took in the victim, sent her back to school and agreed to sponsor her education forthwith
Olori Olufunmilayo Nejo-Oluyede, also,
empowered the victim's mother in a small business to enable her to cater for the needs of the baby, whom she affectionately christened "Peter".
Before then, the victim had dropped out of school and had resorted to hawking pure water on the Ayede Ogbese Akure-Owo highway, alongside her mother.
Commenting on the development in his domain, Oba Ajibola Oluyede, expressed his profound satisfaction with the judgement of the court.
Oba Oluyede said that "This will certainly serve as a deterrence to others.