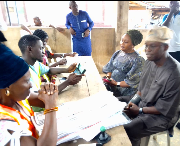 Politics
Abiru lauds INEC, Obasa commends security personnel
By Abimbola Joseph, LAGOS
CITIZENS COMPASS– THE Senator representing Lagos-East Senatorial District, Tokunbo Abiru, on Saturday, commended the Independent National Electoral Commission (INEC) for improving on the election process.
Abiru commended the electoral umpire after casting his vote at 10.20a.m. at Ward 011, in Aga/Ijomu polling unit, Ikorodu, Lagos State.
He said that the process was better organised compared with the presidential election which took place on Feb. 25.
"Number one, we need to congratulate ourselves; I think there is maximum improvement from what we saw the last time in terms of logistics.
"You can see that they are better organised this time, things are flowing.
"Last time when we were here, you recall we were still trying to get ourselves together, but now voting has commenced before 9.00am.
"All arrangements have been put in place and I think the whole process is peaceful.
"The turnout is very good and I hope at the end of the day, the outcome will be our expectations," Abiru said.
On his part, Alhaji Jamiu Egbodoku, a stalwart of Peoples Democratic Party (PDP) in Ikorodu, said the exercise had been fair and peaceful, but with low turnout.
Egbodoku urged INEC to maintain the standard and ensure the process gets better.
"The turnout is poor; so far so good, it has been fair and peaceful," he said.
In Agege Local Government Area, Speaker, Lagos State House of Assembly, Mr Mubashiru Obasa, commended security operatives for their performance during the election.
Obasa, in his remarks after casting his vote at Polling Unit 019, Olaniyan Oyewole St. Papa Ashafa Agege, appreciated the presence of security personnel in the community.
We are impressed with the presence of security officers at various quarters and we know that everything will go well at the end of the day.
"No violence, no trouble anywhere in our community, there is relative peace in our area," he said.