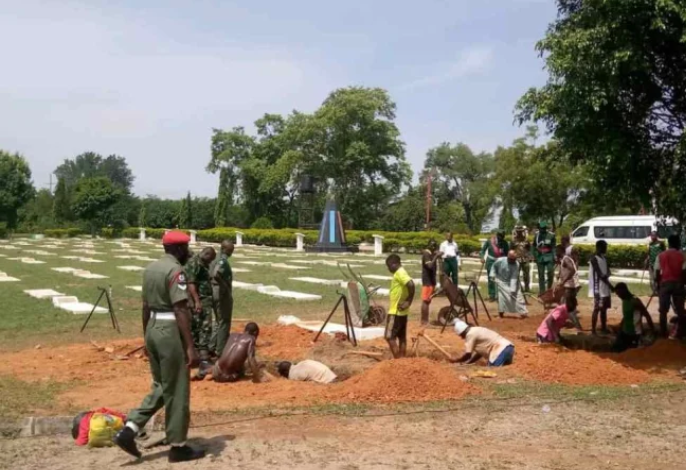 As the Federal Government has declared a work-free day to members of the Nigeria Armed Forces, the Senator representing the Lagos East Senatorial District in the National Assembly, Adetokunbo Abiru, has commiserated with President Muhammadu Buhari and the entire nation over the death of the military officers who died in plane crash on Friday.
A condolence letter signed by the senator described the tragic incident as a fatal blow to the nation and the immediate families of the deceased.
He extolled the gallantry and courage of an illustrious indigene of Ikorodu, Late Brigadier- General Lookman Olatunji Olayinka, the Provost Marshall, Nigerian Army Headquarters, Abuja who died alongside brave military top brass.
The senator, in his emotion-laden condolence letter expressed grief over the passage and prayed that Almighty Allah should comfort the families of the departed
"I commiserate with the President and the Commander-In-Chief of the Armed Forces of the Federal Republic of Nigeria, His Excellency, President Muhammadu Buhari,, on the death of our gallant and courageous officers who died in the course of duty: Late Chief of Army Staff, Lt Gen Ibrahim Attahiru, and our own Brigadier-General Lookman Olatunji Olayinka (13th January 1970 – 21st May 2021) and nine others.
"Late Olayinka was among the finest top brass of the military that Nigeria ever produced. As the Provost Marshall of the Nigerian Army, Late Tunji discharged his duty exceptionally with discipline and courage.
"Tunji's dedication to duty earned him laurels including medals from the United Nations. Nigeria, Ikorodu, Kosofe and Lagos State at large will not forget his gallantry, and honour he brought to the land in his patriotic service to the nation. We are proud of his sterling achievements in the military and the legacies he left behind.
"I pray that Almighty Allah comforts the Matriarch of the Olayinka family, the wife of the deceased, Mrs Oluwatoyin Olayinka, the Children and my bosom friend, Barrister Lanre Olayinka and other family members.
"Please accept my heartfelt condolences on behalf of the people of the Lagos East Senatorial District." He added.