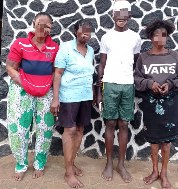 CITIZENS COMPASS– POLICE in Lagos have commenced investigations about four suspected kidnappers who attempted to kidnap a 10-year- old girl in Ketu, Kosofe area of Lagos State.
The suspects, a man and three women were at about 3pm, on Wednesday, September 28, 2022, handed over to men of Ketu Division to prevent a jungle justice by residents.
The spokesperson of the police command, SP Benjamin Hundeyin, said that the Divisional Police Officer, (DPO) in Ketu was alerted about the attempted kidnap.
He said the three women were between the ages of 45 and 64 while the man was about 61.
in a viral video watched by Citizens Compass, the women were stripped naked by a mob with an attempt to hang a tyre on one of the suspects.
It was learnt that the four suspects accosted the 10 years old daughter along Ikosi Road in Ketu but a family friend who saw the victim with them called her by name but there was no response and she suspected a foul play.
This attracted a crowd who demanded explanation from the suspects.
A resident Tafa Badejo said the victim had been dispossessed of her valuables before help could come.
The victim's mother was quoted to have said, " the suspects allegedly dispossessed my daughter of her valuables and attempted to abduct her to an unknown destination.
"In the process, a mob who sensed their criminal act challenged and beat them thoroughly," he said.
Spokesperson of the Command, SP Benjamin Hundeyin, in his tweets, said,
"These four elderly people allegedly attempted to kidnap a 10 year old girl. People around apprehended them and beat them black and blue.
"The Police arrived on time. Investigation is ongoing. Stop jungle justice! Report crime and criminals to the Police."