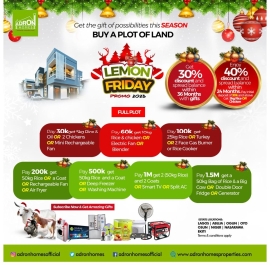 Articles
Adron Homes, making incredible housing, landed properties affordable to Nigerians 
By Solanke Ayomideji Taiwo
CITIZENS COMPASS —Nigerians are now able to purchase incredible properties at affordable prices, thanks to Adron Homes and Properties which is making it possible.
Adron Homes, based in Lagos, Nassarawa, Abuja, Ekiti, Oyo, and Ogun states, is offering Nigerians the opportunity to purchase properties at prices that are much lower than the market rate. 
The properties are located in some of the most desirable areas of the city, including Victoria Island, Ikoyi, and Lekki.
The firm is offering a range of properties, from luxury apartments to commercial buildings. Prices start from as low as N5 million and payments are very affordable compared with other property companies within the country. 
The company is also offering a range of financing options, including mortgages and installment plans. This makes it easier for Nigerians to purchase properties without having to pay the full amount upfront.
It is also providing a range of services to help buyers with the process of purchasing a property. This includes helping with the paperwork, providing legal advice, and helping to arrange viewings.
The firm is hoping that by offering these services, it will make buying of property in Nigeria much easier and more accessible.
It takes pride in its commitment to providing their customers with the best possible service. 
They strive to ensure that their customers are always satisfied with their experience and that they feel secure in their transactions. 
The company has a strict policy of not duping people and takes all necessary steps to ensure that customers are always treated fairly and honestly. It has a long history of providing excellent customer service and they are proud of their reputation for being a reliable and trustworthy real estate company in Nigeria. 
It is committed to providing their customers with the best possible experience and they will continue to do so in the future.
With the help of Adron Homes and Properties, Nigerians can now purchase incredible properties at affordable prices. This is a great opportunity for those who want to invest in real estate in Nigeria.
To acquire your affordable housing and landed properties, contact any of Adron Homes and Properties nearest to you, their customer care agents are waiting for you to assist you in getting your properties at your desired location within Nigeria.
—By Solanke Ayomideji Taiwo writes from Lagos, Nigeria.