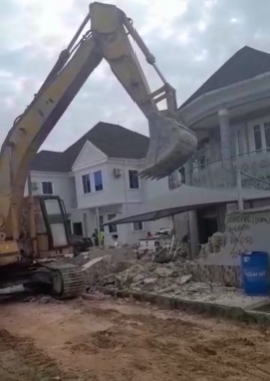 CITIZENS COMPASS – A group of Igbo youths, Coalition of South East Youth Leaders (COSEYL), has sent serious warnings to Lagos State Governor, Babajide Sanwo-Olu to stop fanning an ember of discord as regards demolition of 13 buildings in Ajao Estate in Oshodi-Isolo area of the state. 
The group in a press statement by its President General, Goodluck Ibem, said the demolition may result in ethnic hostilities. 
He called on Sanwo-Olu to immediately halt the action to avoid igniting civil unrests.
Recall that the state government through its Building Control Agency had pulled down 13 buikdings on Friday. April 28, 2023 for failure to conform with relevant laws guiding physical development and building constructions. 
The statement partly reads: " COSEYL is enraged over the massive demolition and destruction of houses and property belonging to Igbos in Rockview Ajao Estate and other areas supposedly won by the Labour Party (LP) during the presidential elections in Lagos State.
"This is wicked, barbaric, senseless, and stupidity of the highest order.
"Governor Sanwu-Olu is gradually building up anarchy and a war that might consume the entire Nation. We warn him to retrace his steps and stop forthwith the demolition of Igbo houses in Lagos State."
COSEYL further alleged that the situation had confirmed that the Lagos State Government had explanations to offer in the fire outbreaks in some Igbo-dominated markets in Lagos.
It called on the State Government to explain all it knew about " the attacks and killings of Igbos during the general elections in Lagos".
The statement further reads: "Dr. William Wilberforce Chuba Okadigbo of blessed memory once said that:" If you are emotionally attached to your tribe, religion or political leaning to the point that truth and justice become secondary considerations, your education is useless. Your exposure is useless. If you cannot reason beyond petty sentiments, you are a liability to mankind".
"We call on President Muhammadu Buhari to call Governor Sanwu-Olu to order before he throws the country into anarchy and lawlessness.
"Nigerians no matter the tribe are constitutionally empowered by law to live in any state or community of their choice and that law is bigger than Sanwu-Olu and his partners in crime to change overnight.
"We call on the United Nations and the international community to immediately intervene while also placing a visa ban on Governor Sanwu-Olu and his partners in this wickedness against humanity."
It will be recalled that General Manager of Lagos State Building Control Agency (LASBCA), Gbolahan Oki, at a press briefing on Friday, said the affected buildings lacked required approvals and were cited around airport-restricted areas and on aviation fuel pipelines.
He said the demomolition exercise carried out by the enforcement and compliance team of the agency was aimed at ensuring that buildings in Lagos State are designed, constructed and maintained to high standards of safety in order to avoid loss of lives and properties. 
He averred that the agency has been sending letters to the owner of the properties since 2016 to vacate the area but they fail to comply. "Several meetings have been held to have a peace talk but yet, they turned  deaf ears hoping that there is nothing that the government can do." 
At the press briefing, General Manager, averred that the owners of the properties, apart from building on illegal lands, also violated the law guiding physical developments within Airport environment by erecting structures beyond the required height in Airport area. 
He said the management of FAAN had in the past, appealed to the owner of the illegal building on different occasions through radio broadcast and adverts but all efforts proved abortive. "For more than two years now, FAAN and LASBCA have been visiting the place placing orders for them to stop work, all these fell into deaf ears" he added.
Meanwhile, some property owners in the area said they were served ample notices before the exercise was carried out.
COSEYL is the apex Igbo socio-political youth group in the South East dismissed the excuses by LASBCA as flimsy, alleging that the action was a political vendetta.