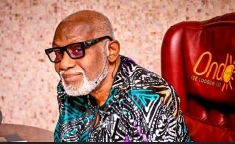 Politics
Akeredolu explains N7.3bn 'Infrastructure Support Fund'
CITIZENS COMPASS —Ondo state governor, Oluwarotimi Akeredolu has shed more light on how his administration disbursed N7.3bn contingency fund. 
He said the fund was  not captured in the 2023 fiscal year budget because it was received from the federal government as "Infrastructure Support Fund."
The Governor explained that the money was not spent on medical vacation as speculated. 
Akeredolu, who spoke through his Chief Press Secretary, Richard Olatunde, said he provided the clarification for the sake of transparency and accountability, which were values synonymous with his administration.
According to the Governor, the N7.3bn constituted the cumulative amount of palliative funds received from the federal government and allocated under the contingency sub-heading to address unforeseen expenses not initially budgeted for but deemed necessary during the fiscal year.
He said: "While the original contingency fund in the 2023 budget was N1,069,000,000.00, the additional N7 billion represents funds received from the federal government labelled as "Infrastructure Support Fund," specifically for palliatives meant to cushion the effects of fuel subsidy removal.
In accordance with the Ondo State Public Finance Management Law 2017, the establishment of a Contingency Fund is outlined in Part Five, subsection (i) and (ii). It states: A contingency Fund is hereby established. (ii) The contingency Fund may be utilised for making money available to meet emergency expenditure (other than statutory expenditure) which is not provided for in the Appropriation Law for the current year and which although otherwise failing to be met out of the Consolidated Revenue Fund or Capital Expenditure and Development Fund cannot without serious injury to the public interest be postponed until a Supplementary Appropriation Law providing for it can be enacted."
Contingency funds are designed to address emergency expenditures not provided for in the current year's Appropriation Law, but crucial to the public interest and requiring immediate attention.
Governor Akeredolu did not personally spend the N7.3 billion; rather, these funds were appropriately utilised for palliatives. The funds were released to the state by the federal government as part of the efforts to mitigate the impact of the fuel subsidy removal nationwide.
Our administration remains committed to the highest standards of financial responsibility. Any claim of impropriety is unfounded. We encourage the public to rely on accurate information and refrain from being swayed by sensational claims lacking factual basis.
The Palliative committee will in due course avail members of the public the details of the expenditure of the palliative fund."