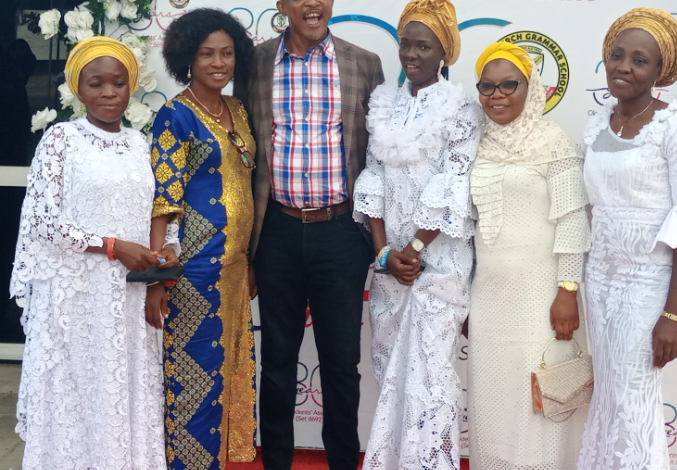 Education
Alumni renovates classroom, donates cash to mark 30 years reunion
CITIZENS COMPASS– THERE was a lively atmosphere in Abeokuta, Ogun State, recently, when the 1986/92 set of the African Church Grammar School, renovated two blocks of classrooms towards their 30 years reunion.
They also planted 120  trees and gave ten of their teachers cash gifts to commemorate.
The Acting President of the set, Mr. Boye Ayodele, while planting the  trees said the gesture was part of their activities in celebrating the reunion.
"We have just started and we want to see this school transformed beyond infrastructure. We want our students to be ahead in their academics so they can compete with others from other parts of the world.
"The tree planting is a symbol for our class set", Ayodele said
He advised the students to look beyond their environment and dream big. "We don't want dropouts; we want you to become policy makers and professionals in various fields," he said.
The cash gifts were presented at a reception held at Park Inn event centre, Kuto, Abeokuta where Ayodele said this is to inculcate good habits and a way of celebrating the teachers in their lifetime.  
"In fact, what you planted in us still linger in our memories today. You taught us to exhibit good habits, be responsible and responsive at all times. It is very difficult to forget your good virtues," said Ayodele.
During the tree planting, the Chairman, Planning Committee, Engr. Olurotimi Ogunwemimo, said the project was one of the set's contributions to the school.
In attendance were the principal of the junior school, Mrs. Funmilayo Olutorera and some retireed teacher inclufing; Mr. Oyebade Sunday, History teacher, Mrs. Onigbogi Abimbola, Biology/Integrated Science teacher, Mrs. Abiodun Olukemi, Chemistry teacher, Mrs. George Victoria, English Language teacher, Mrs. Deru Mojisola, Mathematics teacher and Mrs. Oyesiku Olajumoke, Literature in English teacher.
The principal expressed her delight about the development, saying she was happy to have been part of the set's success stories.
She added, "There is nothing too small to do for your school, so, it's commendable that after 30 years, you didn't forget your alma mater. I'm amazed."
Former History teacher, Mr. Oyebade Sunday, who commended the set for the project, said the school had continued to make progress in all areas, urging them to continue with the tempo and do more for the less privileged ones in the society.