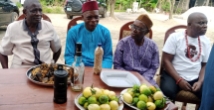 CITIZENS COMPASS– THE Anioma Progressives Union in Igbogbo/Baiyeku area of Ikorodu, Lagos State has celebrated 2022 'Iwaji' (New Yam Festival) on Sunday.
The event commenced at 3pm on Emily Avenue area with roasting of yams, presentation and breaking of kolanuts followed by entertainment of guests.
'Iwaji' is a festival being celebrated by Anioma farmers to mark the first harvest of yams which will grant them the opportunity to eat yams.
In Lagos, the union simultaneously celebrate the festival with farmers in the village.
The third of its kind in Igbogbo/Baiyeku had 99% of members in attendance to merry with one another.
Speaking with Citizens Compass, the Union President, Chief Joseph Okolie
Speaking with Citizens Compass, the President of the Union, Uche Okolie commended the turn out of members saying, "We are the Aniocha sons and daughters who reside in Igbogbo/Baiyeku and we are celebrating the season of New Yam.
"We seize the opportunity of a public holiday to celebrate this.
"This is the season even in the village where we come from as they are also celebrating the festival.
"We jointly agree to celebrate it today being a public holiday.
"We are from different towns within Aniocha area of Delta State.
"We are predominantly farmers who start farming in the beginning of the year but there is a certain part of the year when the new yam is being harvested and we have a time to start eating it.
"This means we have not tasted new yam but after the festival, we'll start eating it.
"My advice to the younger ones is that they should emulate us."
"As we celebrate it, it makes us feel at home as if we are in the village. No much work in the farm, just sit at home and eat and that is what we are reflecting.
73 years old Chief Joseph Okwuose, said he was happy at the turn out. "I am happy that the meeting is progressing." He said.