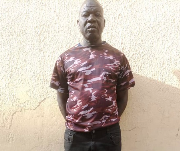 CITIZENS COMPASS– LAGOS State Police Command say the Assistant Superintendent of Police (ASP) who fired the shots that killed a female lawyer, Omobolanle Raheem is still in detention.
The Command also revealed his identity as ASP Drambi Vandi.
Spokesperson of the command, Benjamin Hundeyin disclosed this on his verified Twitter handle on Wednesday, December 29, 2022.
Hundeyin said, "ASP Drambi Vandi still in detention!
"Investigation has shown that the other two officers with him had no hand in the shooting incident. They have, therefore, been released.
Claims that the officer responsible for the shooting has been released is totally false.
Citizens Compass reports that Omobolanle was shot dead at Ajah on Christmas day.
The lawyer was said to be pregnant with twins.
Hundeyin had said the suspect has been transferred to the State Criminal Investigation Department.