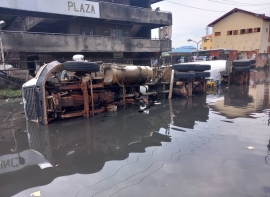 Community
Another gas explosion prevented in Lagos 
CITIZENS COMPASS —Lagos State the City of Excellence, on Sunday, escaped explosion from a tanker-laden with 20tons of gas which fell by its side due to the poir condition of road at 
Causeway Ijora, by a new generation bank in the State. 
Emergency responders were able to handle the situation. 
Time was 12.50p.m.
The Permanent Secretary, Lagos State Emergency Management Agency, Dr Olufemi Damilola Oke-Osanyintolu who confirmed the incident said there was no loss of life. "On arrival of Cobra team at the scene of the incident,it was observed that a 20tons gas tanker with registration number LAR-463-YD had a lone accident and fell in the middle of the road. 
Further information gathered at the scene revealed that the tanker lost balance and fell as a result of a bad road network which was fully covered with water on the road.
"No loss of life, However, safety measures have been put in place by Cobra team alongside Lagos State fire service in order to prevent any ignite.
" Cobra team, Lastma, LASG and Nigerian Police are responders at the scene working better together for the recovery of the affected gas tanker.
" Recovery operation ongoing. "
The Director, Lagos State Fire and Rescue Service, Margaret Adeseye also confirmed the incident to our correspondent saying the Agency responded to two tanker incidents on Sunday. 
While confirming the Ijora incident, she said the second one occured at Omole Phase 1 in Lagos. 
"The Lagos State Fire and Rescue Service is currently involved in the salvage operations of two gas tanker incidents. One incident occurred at Ijora Causeway, Ijora, and the other at Ogunnusi Road, Hotel bus stop, Omole Phase 1, both in Lagos.
" The Ijora incident is being attended to by the Sari Iganmu Fire Crew. The tanker, with registration number LSR 463 WD and belonging to PetroCam, fell on its side while on its way to Epe from a Depot in Apapa. The situation is being managed to prevent further emergencies.
"At the Omole location, the Alausa Fire Crew is mitigating the Optima Gas tanker, which has a mechanical fault to prevent any eventualities.
" Both tankers are conveying 20 tonnes of LPG to their respective destinations. So far, there have been no casualties, and the situations are under control. Efforts are currently underway for recovery."