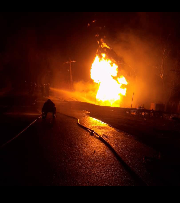 Community
Anxiety as fire guts gas pipeline in Ikorodu
CITIZENS COMPASS– THERE was anxiety in Odogunyan area of Ikorodu, Lagos State, following an overnight fire outbreak which erupted from a gas pipeline in the area.
The prompt intervention of Lagos State Fire and Rescue agencies saved the fire from escalating.
Eye witnesses' accounts said people in the neighbourhood scampered for safety as the fire raged.
However, no there were no casualties or injuries sustained.
Confirming the incident in a statement, Adeseye Margaret, Director, Lagos State Fire and Rescue Service, said,
"The Lagos State Fire and Rescue Service overnight, Sunday, tamed a Gas Pipeline Fire at Odogunyan Bus Stop, by Devier Primary School, Ikorodu, Lagos.
"The Fire outbreak which was reported at 02:11 wee hours on Monday as the nearby Ikorodu Fire Station prevented it from causing havoc and secondary incident.
"The Gas Pipeline which travels from Falcon Corporation through the Ikorodu neighbourhood resulted into Fire, which cause is being investigated after the company shut down the gas supply system to aid the Firefighters timely intervention.
"Meanwhile, It is on record that there is no report of neither injury nor fatality as the operations was concluded 03:08 hours while the environment is now safe for inhabitants."