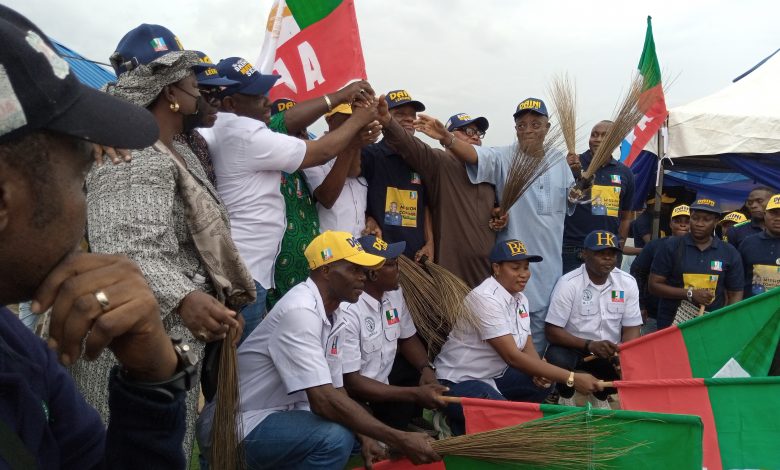 THE All Progressives Congress (APC), has flagged off its campaign in Igbogbo/Baiyeku, in Ikorodu, Lagos State, ahead the July 24 Local Government elections in the State.
The party also presented its flags for its candidates with a promise to deliver on its mandate.
The occasion took place at Adeboruwa Ultra Modern Market, Igbogbo, at 10am.
Present were party leaders including one time Secretary to Lagos State Government, Chief Olorunfunmi Basorun, the APC, East Senatorial District, Kaoli Olusanya, the House of Representative Member  representing Ikorodu Federal Constituency, Babajimi Benson and Member, Lagos State House of Assembly, Honourable Saka Solaja among others.
Also, the leadership of the Igbo community led by the Ezesinachi 1, Dr. Okechukwu Anorue and other dignataries.
The candidates are Olusesan Daini (Chairman) and Nureni Okedina (Vice Chairman).
Others are councillorship candidates:; Adetutu Banjoko (Ward C1), Akeem Solawon (Ward C2), Nurudeen Alimi (Ward C3) and Matthew Arowolo (C4) and Habeeb Anifowose (C5).
Presenting the flags, Kaoli expressed victory at the polls urging the electorate to vote enmasse for the candidates.
He promised that the leadership of the party would monitor candidates ' manifestoes and ensure that they fulfil their promises.
He said, "We will look into the programmes of the candidates and put them on their toes so that they can deliver on their promises.
On the selling points of APC in Igbogbo/Baiyeku, he said, "This venue used to be in shambles but today , you can see the transformation with the existing Infrastructures including the office complex.
"This has shown the landmark of the chairman which is the reason people gave him the mandate to return for another four years," he said.
Delivering his manifestoes, the Chairmanship candidate and sitting council chairman, Olusesan Daini, said the second term would improve on the security of the area and embark on regular maintenance of roads if voted for the second term.
Other things as promised by the council chairman include provision of primary health care and educational facilities in the LCDA.
On the modalities to be adopted, he said, ""I will submit a proposal to the councillors for ratification to enable us constitute a Public Works Committee so that we don't wait till our roads dilapidate before fixing them.
"There will be better primary education facilities in all primary schools and we shall improve on the primary health care facilities." He added.
On security, Daini cautioned,
"we are ready to engage our youths through trainings, development and

The candidates.

empowerment. However, any youth that is adamant and posing as security threats will be put where he belongs just as the law will take it's course,"
Also speaking, the councillorship candidate representing Ward C2, Mr Hakeem Solawon who spoke on behalf of the councillors said that all of them would work harmoniously with Daini for the growth and development of the LCDA.