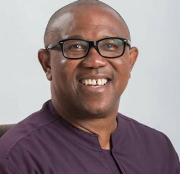 CITIZENS COMPASS-:SUPPORTERS of the Labour Party presidential candidate, Peter Obi have alleged that they were attacked in Lagos State on Saturday, February 11, 2023.
The party faithful said some political thugs attacked them during Obi/Datti mega rally in the state.
The grand finale of the Lagos rally took place at the Tafawa Belewa Square, TBS, Lagos.
The rally began with a road show in places like Alaba down to Orile, Sari Iganmu and culminated at Tafawa Belewa Square (TBS) where thousands of supporters converged on.
A video on social media captured some Peter Obi's supporters lamenting how the thugs attacked them at the Jakande, Lekki area of the State.
According to the victims, the suspects gave machete cuts on persons, broke their vehicle, snatched their phones and other items for allegedly wearing clothes carrying the LP logo.
Peter Obi speaks
In one of his tweets at about 12.55pm, Peter Obi said, "As we go into the final stretch for the 2023 elections, I call on all Nigerians regardless of political affiliation or tendency, to eschew violence. I condemn any form of violence and political thuggery; and especially the incessant attacks on my Obidient supporters.
"I call on the security forces nationwide to protect those exercising their fundamental rights of free speech and assembly. Our civic space must not shrink further. -PO"
The spokesperson for the LP presidential campaign council, Dr Aliyu Tanko confirmed the incident to the publication.
He said, "the ObiDent Movement is under attack in Lagos, they are stopping our people from coming to the TBS rally.
"Nothing can stop a movement whose time has come. Security operatives take note. We keep moving Obidently and Yusfully."
Spokesperson, Lagos State Police Command said the Divisional Police Officer in charge of the area will look into it.