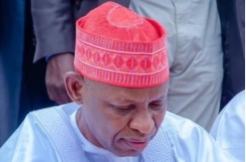 CITIZENS COMPASS —The Court of Appeal sitting in Abuja on Friday, November 17, 2023, sacked Kano State Governor, Abba Kabir Yusuf.
Recall that the Independent National Electronic Electoral Commission (INEC) had declared Yusuf from the New Nigerian Peoples Party (NNPP) the winner in the March 18, 2023 election. 
He won with 1,019,602 votes to defeat  Nasiru Gawuna from the All Progressives Congress (APC) who had 890,705 votes.
Alleging electoral malpractices, APC took the matter to the Tribunal, 
Subsequently, a three-man panel, including Justice Oluyemi Akintan Osadebay, along with two other judges, removed Yusuf from office on September 20, 2023, after declaring 165,663 of his votes invalid due to lack of signatures or stamps from the Independent National Electoral Commission.
As a result, the governor's votes were reduced to 853,939, while Ganuwa's 890,705 votes remained. Yusuf immediately rejected the Tribunal's decision, calling it "unfair" and "a miscarriage of justice," and appealed the ruling.