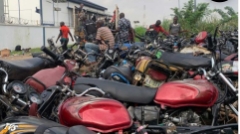 Community
Why we operate on Lagos highways —Okada riders 
... as Lagos Taskforce impounds 82 bikes in Ajah
CITIZENS COMPASS —Some recalcitrant commercial motorcyclists popularly known as Okada riders have adduced reasons for their refusal to vacate highways in Lagos State despite the ban by the State government. 
This is just as the Lagos State Environmental Sanitation and Special Offences (Taskforce) on Friday, November 10, 2023, said it impounded 82 motorcycles  during a raid of Ajah axis and its environs. 
The Okada riders told the Taskforce operatives that they pay some amount of money into the coffers of some unscrupulous elements on the streets to allow them operate successfully on the highways. 
However, 82 motorcycles were impounded for operating illegally on the Lekki-Epe Expressway despite the ban on their activities across all highways in the State. 
Spokesperson of the Agency, Gbadeyan Abdulraheem, in a statement on Friday, 
He said the operation which took place at mid day was led by the Chairman of the Agency, CSP Shola Jejeloye who disclosed that it was necessary to remind recalcitrant okada operators that the stand of the State Government against their illegal operations across all Highways and Bridges in the State had not shifted. He further stated that the Agency acted based on credible intelligence gathered which indicated that okada operators had resumed operations along that axis but have been countered by the Agency.
"Okada operations across all Highways and Bridges in the state are forbidden up till this very day, therefore, anyone caught operating his okada on these routes is committing an offense. We have heard of pockets of activities taking place across selected areas but we assure them that their bikes will be impounded and crushed once the verdict has been given by the court."
Jejeloye indicated that some okada operators who were quizzed on why they returned to the highway hinted that they got the go ahead from some unscrupulous elements in the street who gave them the assurance that they could carry on with their actions as long as they pay a certain daily levy to them. 
"Anyone dishing out false assurances to okada operators asking them to get back on the roads is playing with fire and will be brought to book soonest. Okada operations are illegal and anyone caught, whether ignorant or not will be prosecuted. Ignorance of the law is not an excuse therefore i urge any intending okada operator to have a rethink or risk having his bike impounded and himself arrested."
Sounding a note of warning to miscreants who are fond of shelling Taskforce operatives carrying out their legal assignments, CSP Jejeloye made known that an operative of the Agency was seriously injured while  in transit from an operation along Mile 2 axis. He disclosed that the official is in stable condition and vows to apprehend anyone caught in the act of violence towards any Taskforce official carrying out his legitimate duty.
The Chairman assured Lagosians that the Agency would do all within its powers to ensure that mororists will not be made to return to recklessness and insensitives days of okada operations which had finally become a thing of the past. He disclosed that the Lagos State TaskForce would not rest on its oars till Okada operators are either arrested or flee to other States. 
"I appeal to Lagosians to report any sightings of okada in any part of the State to the Agency through the social handles or directly to the Agency at Bolade Oshodi. The menace of the hydra head of okada operations must not be allowed to grow back under our watch." He added.