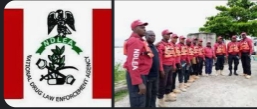 CITIZENS COMPASS – THE National Drug Law Enforcement Agency (NDLEA) has raided some drug joints in Abeokuta, Ogun State, arresting 17 suspects .
The agency also recovered a pistol and 6.2 kilograms of abandoned and seized illicit drugs.
The Commander of Narcotics, NDLEA Ogun State, Ibiba Odili, disclosed this in a statement on Thursday.
According to him, the joint operation was carried out in partnership with the operatives of 35 Artillery Brigade of the Nigerian Army, Alamala Barracks, Abeokuta and those of the Nigeria Security and Civil Defence Corps (NSCDC).
He explained that the operation was carried out at drug joints in Obada, Lafenwa, Odo-Eran and Adigbe areas of Abeokuta.
Odili disclosed that two young men were caught with 2.5 kilograms of cannabis sativa, while a notable seizure of 1.5 kilograms of abandoned cannabis sativa was made.
She said, "The operation uncovered a locally-made pistol along with three cartridges, underscoring the dangerous link between drug trafficking and illicit firearms."
"The cumulative impact of all three phases revealed a chilling reality: a total of three suspects were apprehended, along with fourteen drug users. The combined weight of the confiscated cannabis sativa amounted to a staggering 6.2 kilograms, abandoned and seized."
It was added that the collaborative efforts of the NDLEA, the Army, and the NSCDC demonstrated a firm commitment towards dismantling drug networks and safeguarding the well-being of communities in Ogun State noting that investigations were still ongoing to identify the masterminds behind the illicit drug operations.