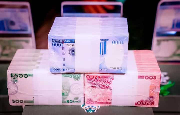 Business
ATMs still dispense old Naira notes
CITIZENS COMPASS: DESPITE the January 2023 ultimatum issued to all banks in Nigeria to mop up the old Naira notes in the circulatoon, most Automated Teller Machines (ATMs) across the country are still dispensing old N1,000, N500 and N200 notes.
Reason for this could not be ascertained.
The old N1,000, N500, and N200 notes are set to be decommissioned by the end of January 2023, following the release of new currency notes by the Central Bank of Nigeria in December 2022.
Recall that the CBN had in October 2022 announced the redesign of N200, N500, and N1,000 notes in a bid to curb currency counterfeiting and take control of the currency in circulation.
What the CBN said: According to the apex bank's Governor, Godwin Emefiele, the new and existing naira notes will remain legal tender and circulate together until January 31, 2023, when the existing currencies shall seize to be legal tender.
In a chat with some businessmen, they lamented scarcity of the new notes saying the deadline set aside by CBN should be reviewed.
An auditor, Mr Lekan Sanwo said, "I went to the bank to withdraw N400,000 today, to my surprise, only N1,000 new currency was in the money while the N399,000 were old currencies.
"Are we sure of meeting up with the deadline ?"
A traders, Mrs Taibat Tayo said she collected the new N200 currency for the first time about a week ago unlike before when the new currencies would have been in circulation few weeks to the deadline. "By now, many traders would have been getting the new notes but they are very scarce this time around.
"The possibility of meeting up with the deadline is slim."
–With additional reports from Nairametrics.