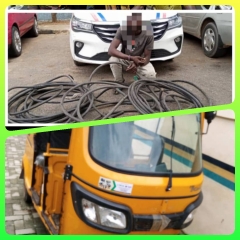 Business
RRS arrests eight suspected cable vandals
.. recovers four new tricycles ftom fleeing suspects 
CITIZENS COMPASS – Operatives of Rapid Response Squad (RRS), Lagos State, have arrested eight suspected cable thieves and recovered over 100-meters-long armoured cables from one of the suspects in Igbo Efon, Lekki area of the state.
Spokesperson, Lagos State Police Command, Benjamin Hundeyin who disclosed this in one of his tweets on Friday,, June 9, 2023, said, "Seven of the suspects were arrested at about 9:30 p.m. in Anthony Village, Lagos on June 1, 2023 when RRS operatives on patrol in the area accosted them while digging and shoveling the ground for armoured cable belonging to Ikeja Electric.
" The suspects, Kamalu Mohammed 'm' aged 32, Usman Lawal 'm' aged 33, Ibrahim Salisu 'm' aged 22, Hassan Salisu 'm' aged 20, Zulkiful Sani 'm' aged 23, Umar Haruna 'm' ages 26 and Amadu Muazu 'm' aged 22 claimed that they were driven to the site of Ikeja Electric in Anthony Village by one Alhaji. 
Recovered from the gang were two diggers, three shovels, two iron cut saw, one saw blade and one Bosch professional roller.
"Further investigation led to the arrest of the last suspect, Nasir Lawal 'm' aged 30 with over 100-meters-long cable believed to have been stolen at a construction site around Igbo Efon, Lekki, Lagos.
*All eight suspects have been charged to court." He said. 
In a related development, the Command has also recovered four brand new tricycles from four fleeing suspects. 
He gave the details as follows ;
" Vigilant passersby noticed the awkwardness of four men in a brand new tricycle and quickly contacted the police. The men, upon sighting a patrol team from Ijora Badia Division, fled and abandoned the tricycle.
*The owner is expected to visit the indicated Police Division with proof of ownership to claim the tricycles. "