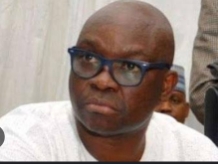 CITIZENS COMPASS —An investigating officer with the Economic and Financial Crimes Commission (EFCC) has told a Federal High Court sitting in Lagos that former Ekiti State Governor, Ayodele Fayose, allegedly received the sum of N1,219,000,000 in cash from former Minister of State for Defence, Musiliu Obanikoro, for the 2014 governorship election.
On Friday, the officer also informed the trial judge, Justice Chukwujekwu Aneke, that contrary to the statement made to the Commission by Fayose that the money was a campaign donation from the Peoples Democratic Party (PDP), the EFCC discovered that the fund was from the office of the National Security Adviser (NSA) and that it was budgeted for the purchase of security equipment.
Madaki, who is the 13th prosecution witness in the trial, made the allegations while being led in evidence by the prosecution counsel, Rotimi Jacobs.
Fayose alongside his company, Spotless Investment Limited, is standing trial over an 11-count charge of criminal breach of trust, theft and stealing of public funds.
The anti-graft agency alleged that Fayose and one Abiodun Agbele, who is also standing trial on alleged money laundering offences before another division of the court, on June 17, 2014, took possession of N1.219 billion, to fund his 2014 governorship campaign in Ekiti State.
He, however, pleaded not guilty to the charge.
Obanikoro, the 12th prosecution witness, had earlier testified before the Court that the N1.2 billion was allegedly taken to Fayose in Ekiti State using an aircraft.
In his testimony yesterday, Madaki stated, "In our investigation, we contacted the People's Democratic Party secretariat in Abuja. The party denied receiving any money from the National Security Adviser or the office of the Secretary to the Government of the Federation.
"The party also said it did not give any campaign money to Senator Musiliu Obanikoro to give to the first defendant.
"So the funds moved from Diamond Bank to Zenith Bank were the funds that came from the imprest account, which is under the control of the office of the National Security Adviser to President Goodluck Jonathan, Colonel Sambo Dasuki."
The witness also stated that the EFCC gave the first defendant and his associate, Abiodun Agbele, the opportunity to explain the source of the huge sum of money deposited into the account of the second defendant, but they could not give any reasonable reason.
The EFCC Investigator also told Aneke that from the money, the former Ekiti State governor bought property worth N270 million from one Rabiu Kundili in Abuja and also deposited in a fixed account the sum of N100 million.