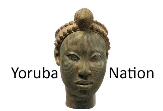 Politics
Yoruba Nation leader resigns over alleged fraud
CITIZENS COMPASS– THE crisis rocking the Yoruba Self-Determination Struggle,  Ilana Omo Oodua Worldwide got deepened on Saturday, as its Leader and Chairman, Wale Adeniran, resigned from his position over allegations of fraud and embezzlement.
In a two-minute 33 seconds video watched on YouTube (Omoboriowo media), Adeniran said he stepped aside to allow a thorough investigation into the allegation of fraud levelled against him.
Adeniran said he resigned his membership from the IOOW with a view to allowing thorough investigation, calling on Yoruba elders to set up a committee in that regard.
He said, "I want to use this medium to step aside as Chairman of Ilana Omo Oodua Worldwide, as member of Ilana Omo Oodua Worldwide, I step down as the participant in the Yoruba Nation struggle so as to allow for unfettered investigations of all these allegations.
"Because in all developed parts of the world, what they normally do is that, if there is an allegation against public office holder, he or she will step aside to allow thorough investigation, that's what I'm doing right now.
"I thank you all, and whatever comes out after the investigation should be made public. There shouldn't be secret there. They should publicise the outcome of the investigation because all Yoruba must know the truth about the fraud allegation involving the struggle. Thank you," Adeniran added.
Wale's resignation occurred few hours after the group's Communications Secretary, Maxwell Adeleye resigned his position.