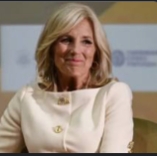 Foreign
Biden's wife tests positive to Covid-19
CITIZENS COMPASS —US First Lady Jill Biden tested positive to Covid-19 on Monday and is experiencing mild symptoms, the White House says.
The 72-year-old, who is vaccinated and has received boosters, will stay at home in Rehoboth Beach, Delaware, where she and President Joe Biden spent part of the weekend.
The president tested negative for the virus on both Monday and Tuesday.
He travelled back to Washington DC on his own on Monday night.
The president, 80, "will test at a regular cadence this week and monitor for symptoms", White House Press Secretary Karine Jean Pierre said on Tuesday.
He is not experiencing any symptoms so far and is in "close consultation with his physician".
"He will be masking while indoors and around people in alignment with CDC guidance," Ms Jean Pierre said. "And as has been the practice in the past, the president will remove his mask when sufficiently distanced from others indoors and while outside as well."
His wife's positive test comes ahead of a busy week for the president.
He is due to travel to the G20 summit in India on Thursday, before a scheduled visit to Hanoi on Sunday for a one-day visit where he will meet Vietnamese leaders.
No changes have been made to his foreign travel plans at this time, an administration official told CNN on Monday.
The pair spent time together over the weekend, including a visit to Florida on Saturday where they viewed the recovery efforts following Hurricane Idalia.
Mrs Biden last tested positive for Covid in August 2022, a few weeks after Mr Biden did so. Both recovered without experiencing major symptoms.
Cases are surging across the US after new variants emerged over the summer, but remain far below the pandemic-era peak.
–BBC