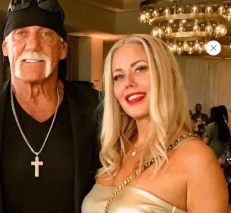 Foreign
Wrestling legend, Hulk Hogan, remarries at 69
CITIZENS COMPASS – 69 years old wrestling legend, Terry Bollea, popularly known as Hulk Hogan, has got married for the third time.
Terry got married to Sky Daily after a ceremony in Florida, United States of America (USA) on Friday night.
It was reported to be a low-key wedding as "neither of them wanted over the top, just a small affair with their nearest and dearest to declare their deep love and commitment to each other", Daily Mail reports Saturday.
The former World Championship Wrestling star got engaged to Daily, a yoga instructor, in July 2023 after they began dating in early 2022.
Hogan had been officially married twice, to Linda Hogan and Jennifer McDaniel whom he recently divorced in 2021.
Daily, also a two-time divorcee, has a nine-year-old girl, and boys aged 14 and 16, while Hogan has two children, Brooke, 35, and Nick, 32.