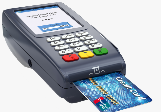 CITIZENS COMPASS- THE Central Bank of Nigeria (CBN) has barred its agents from using Point of Sales (PoS) terminals to carry out cash-in and cash-out transactions.
The Apex bank said these are meant for bank merchants.
CBN disclosed this in a circular announcing the Exposure Draft of the Regulatory Framework for Agent Banking in Nigeria.
According to CBN, the agent banking initiative has resulted in the proliferation of financial services agents across Nigeria, resulting in a significant and growing portion of financial transactions being conducted through the agents.
"This has necessitated the review of agent banking regulations to streamline activities in agent banking while ensuring that appropriate risk mitigation measures are taken by stakeholders", it said.
"Section 8.3 of the guidelines which  prohibited activities for agents stated: "An agent shall not accept deposit or allow withdrawal above an amount which shall be prescribed, from time to time by the bank.
Use the wrong option for transactions e.g agents shall not use the purchase option PoS Terminals for cash in and cash out transactions."