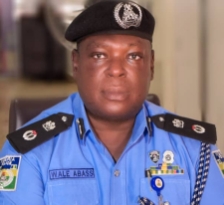 Security
Central Motor Registry is active in Delta—CP
CITIZENS COMPASS —The Delta State Police Command has said that the revitalized and digitalized Central Motor Registry (CMR) of the Nigeria Police Force (NPF) is active and operational in the State.
It urged residents to key into this.
The Central Motor Registry (CMR) was established over 60 years ago to keep track of motor vehicle information, and combat various vehicular crimes, such as car theft, snatching, kidnapping, carjacking, and hit-and-run incidents. These crimes, which are primarily linked to the use of unregistered vehicles, and tinted glasses, amongst other factors, pose significant challenges across the country; and its rising sophistication demands a modernized and expanded approach. Hence, the digitalization of the Central Motor Registry Information System (CMRIS) will help the police conform to the realities of this digital age through a seamless management of information on every motor vehicle and ownership.
To ensure that vehicles to be registered by the CMR are not stolen and to support investigations into stolen vehicles and incidents involving vehicles, the digitalized CMRIS will effectively serve the purpose of gathering additional information from members of the public about stolen vehicles and populating the stolen vehicles database. In the same vein, owners of motor vehicles operating on Nigeria roads and members of the public are thus informed that the new process for requesting the Nigeria Police Force Central Motor Registry services such as Motor Vehicle Information, Change of Ownership, Change of Engine/Chassis/Body, Change of Colour, International Motor Vehicle Certificate, International Drivers' Permit, etc. is to create a profile on the CMRIS portal and apply for the desired service via https://cmris.npf.gov.ng. Also, the newly digitalized Central Motor Registry Command Centre will make it possible for members of the public to report stolen vehicles, especially those that are yet to be recovered from as far back as 1st January 2018. The details of such vehicles are to be inputted on the online platform via https://reportcmr.npf.gov.ng as this will serve as a reliable data point for the possible recovery of the vehicle
The Delta State Police Commissioner, CP Wale Abass, admonishes the good people of Delta and other residents in the State to take advantage of this opportunity to enroll their vehicles in the digitalized CMR platform. He further assures that cooperative compliance with the directive will go a long way in curbing all vehicle-related offenses and will further intensify the security framework across the State. Hence, citizens can either utilize the online platform,  visit the State Command CMR office at the Delta State Police Command headquarters, Asaba, or call the CMR office on 07062042515, and 08130867764 for further inquiry.