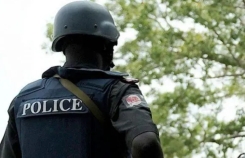 Security
Police arrest 10 personnel over illegal roadblock along Seme Border road
CITIZENS COMPASS – THE Nigeria Police Force has said that about ten policemen are currently being interrogated for setting up unauthorised roadblocks along the Seme Border International road.
The Assistant Inspector General in charge of Zone 2, AIG Muhammed Ali, revealed this information during a discussion with journalists on Tuesday, August 8, 2023.
The AIG disclosed this while responding to a question about the excessive number of police checkpoints on the road, AIG Ali stated, "You are not aware of what this command has done so far; some arrests have been made. 
"When they were brought in here, we discovered that not all of them were there legally. Some of them went there on their own.
 "After closing from work, they go there. Some people that are there consider them as hooligans. We have arrested quite a number of them. We have arrested not less than ten of them on that road. I tell you authoritatively."
He assured that an ongoing investigation is being conducted, and the outcomes of the investigation, along with the punishments for those involved, will be disclosed to the public.
Ali also stated that the arrested police officers will face consequences as per the "internal mechanism" of the Nigeria Police Force.