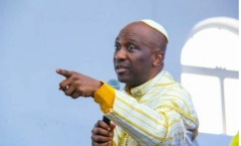 General News
Climate Change: Primate Ayodele's prophecy fulfilled as deadly flood rocks Libya, over 6000 dead
CITIZENS COMPASS —True prophets may not be professors or technocrats but when they speak, they do so with the authority of the heavens.
According to Oluwatosin Osho, spokesperson of the  Spiritual leader, INRI Evangelical Spiritual Church, Primate Elijah Ayodele, true prophets speak not their words or out of permutations, they reveal things to come, warn nations, and create solutions to impending dangers.
Though prophets see and warn ahead of dangers or events, they don't have all the powers to stop any bad occurrence from happening because theirs is to speak, warn, and proffer solutions but if recipients of their prophetic revelations ignore or choose to be complacent about it, there is no doubt that any occurrence they were warned against will happen.
When such happens, the prophet isn't to be blamed, He has done the Lord's work by informing the parties involved but due to personal reasons, the recipients failed to listen.
This is exactly the issue of Climate change that is currently ravaging countries in the African continent. Libya is the latest victim of climate change and at the moment, about 6,000 people have died due to climate change-induced flooding that has literally turned several parts of the country into open mortuaries.
Thousands of people were killed and at least 10,000 were missing in Libya in floods caused by a huge Mediterranean storm that burst dams, swept away buildings and wiped out as much as a quarter of the eastern coastal city of Derna.
"Bodies are lying everywhere – in the sea, in the valleys, under the buildings," Hichem Abu Chkiouat, minister of civil aviation in the administration that controls the east, told Reuters by phone shortly after visiting Derna.
"I am not exaggerating when I say that 25% of the city has disappeared. Many, many buildings have collapsed."
The local al-Masar television said the eastern administration's interior minister had said more than 5,000 people died.
If only African leaders submitted themselves to God's word, this deadly situation would have been prepared for and averted. A Nigerian prophet, Primate Elijah Ayodele who can be best described as a global phenomenon had spoken extensively about the climate change issue in videos shared on his social media accounts. In one of the videos, He said that the African continent will suffer more from Climate Change and that organizing a summit will not solve anything but if presidents and leaders in the continent can seek the face of God, they will overcome.
He categorically stated that the dams in Africa will cause problems and that money will not be able to solve the issues that will arise as a result of climate change in the continent.
These were his words
''African leaders don't know anything about these climatic changes. It will affect Africa more and if care isn't taken, the Western world will cheat African nations in the issue of climatic change. There is more to it and if it is not addressed, it will curse the continent what they don't expect. The dams in Africa will cause another problem, it's not money we are talking about but the face of God in addressing climatic issues.''
In another revelation, Primate Ayodele asked African nations to quickly work on the issue of flooding. He emphasized in the video that what God showed him wasn't just flooding but flood disaster. He further described that he sees water in Europe and Africa.
'' I am using this medium to tell African nations and Nigeria that we must quickly be working on floods so we won't be seeing flood disasters. I am seeing water in Europe and in Africa.''
Let's recall that the major cause of the flood disaster in Libya was a huge Mediterranean storm that burst two dams in the country. A third one is said to be on the verge of collapse and if that happens, more people will lose their lives. This is a major fulfillment of Primate Ayodele's warnings on climate change; He specifically mentioned that the African continent should be careful about their dams, which was so accurate.
As seen above, Primate Ayodele mentioned that there will be flood disasters in the continent if care isn't taken and that Africa will suffer more from climate change. These statements have accurately been fulfilled due to the disaster in Libya and we doubt if there is any other continent where this is currently happening.
Sincerely, it is not the time for African leaders to ignore prophets like Primate Ayodele. He is not after money or fame, He is only doing God's work and the continent has so much to benefit from his prophetic prowess. if care isn't taken, more disasters will happen in the continent except leaders immediately arise to address it.