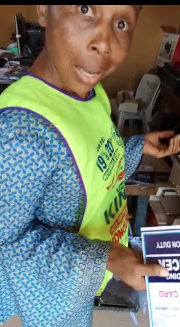 General News
Police nab woman producing INEC materials in Lagos
CITIZENS COMPASS– LAGOS State Police Command on Friday, said it has arrested a 53-year-old woman, who was allegedly found with laminated electoral materials.
Spokesperson of the command, SP Benjamin Hundeyin, confirmed this to newsmen.
Hundeyin said that the suspect was arrested on Thursday, March 16, 2023, at about 4.00 p.m. at Candos Road, Baruwa in Iyana-Ipaja area of Lagos.
According to him, the suspect was arrested inside a business centre where she was making the photocopies.
"She was arrested with 550 different INEC materials.
"The laptop she used in printing the materials has been recovered and she couldn't give a good account of how she came in possession of the materials.
The case has been transferred to State CID Yaba for further investigation," he said.
A viral video had surfaced on Thursday, where the woman was captured at a business center producing some INEC materials.
In the video, a man was seen asking the woman some questions about how she had access to the materials and she responded that a client gave her the contract.
.She added that the materials were meant to be transported to the East but she had no idea of what they are to be used for.
The innocently looking woman was seen wearing an apron during the production.