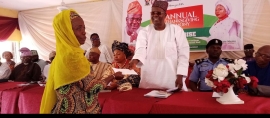 Community
Council boss presents cash gifts to 40 widows, land to CAN in Ikorodu
By Abimbola Joseph, LAGOS
CITIZENS COMPASS – THE Chairman of Ikorodu Local Government, Mr Wasiu Adesina, has presented cash gifts to support 40 widows and a piece of land to Christian Association of Nigeria (CAN) Ikorodu chapter for church building.
Adesina made the presentation on Saturday during the third edition of the council's annual Thanksgiving ceremony tagged "Joyful Noise', held in the council secreteriat hall.
CITIZENS Compass reports that beneficiaries of cash gifts received N10,000 each and food items like gari, beans, rice.
The donation of a piece of land to CAN was for the purpose of building church cathedral in the council area.
Adesina, who promised to assist the body in fast-tracking the building of the cathedral, expressed delight over the victory recorded by his party, All Progressive Congress Party(APC) during the last general election.
He said that the APC's victory called for special thanksgiving to God.
"We are thanking God for the victory recorded by our party at the general elections winning the presidency, state and many legislative positions.
"Our method of worship may differ, but the Holy book still direct us to 'One God' for us to see him in oneness and appreciate his sovereignty.
"As we raise our voices, thanking him irrespective of our beliefs, culture or practices, God answers our prayers," he said.
The council boss commended members of staff and the legislative arm for their unflinching support and promised to maintain the good relationship for economic development.
"Almighty God will continue to be our guiding light for direction and a strong tower as we partner and support this administration's developmental agenda," Adesina added.
Earlier, Mrs Abolanle Adesina, in her welcome address, said that the idea of given gratitude to God is to receive more blessing and direction for more developmental strides for the community.
We are using this medium to thank God for the progress of this administration and success recorded during the last elections.
"With the emergence of Sen. Bola Tinubu as the president-elect and Gov. Babajide Sanwo-Olu returned elected, Nigeria is going to be a better place for us all," she said.
Speaking, Pastor Femi Gilbert of the Daylight Revival Church International, appreciated the LG boss for his kind gesture and advise to the guest to embrace the idea of appreciation adding that everyone must live a life of thanksgiving.
Present were Alhaja Taofikat Allynson, the Iyaloja of Ikorodu, political leaders, staff members and the council legislatures.