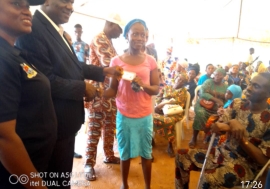 Community
Council partners health agency on free medical care to vulnerable Lagosians 
By Abimbola Joseph
CITIZENS COMPASS —Ikorodu Local Government (LG) in conjunction with Lagos State Health Management Agency(LASHMA) on Wednesday, provides free medical care to vulnerable residents in Ikorodu, Lagos state. 
Citizens Compass reports that the agency registered and conducted different medical tests like; High blood pressure, Sugar level, Malaria test, Diabetes and others.
Citizens Compass also reports people with high disease were referred to hospital of their choices for continuous test and administration of drugs for cure
Speaking at the programme, Mr Wasiu Adesina, Chairman of Ikorodu LG, thanked Gov. Babajide Sanwoolu for initiating and bringing such a programme to Ikorodu to the level that everybody would enjoy and benefit from it.
Adesina urged beneficiaries to ensure that therir policy number is kept very well to enjoy the facility which he said would last for a period of one year.
He also appreciated residents of Ikorodu for coming out enmass to enjoy the facility which he said was part of the dividend of democracy initiated by All Progressive Congress (APC) lead government.
"This programme is fantastic and the turn out was impressive, since there is a believe that health is wealth.
"I want to thank Gov. Sanwoolu who brought this idea, what is happening today is in conjunction with LASG.
The governor is interested in bringing primary health care to the grassroots so that people can enjoy the dividends of democracy.
"I appreciate the people of Ikorodu for coming out en masse and taking advantage of the free health care program.
You can take your card to any government hospital, the treatment has already been paid for," Adesina said.
Also speaking, Mrs Mojisola Ojo, Field Supervisir, EKOSHA officers said the programme was meant for the vulnwrables who are unable to pay for their medical bills.
Ojo said that Lagos State made easy access for them by providing an insurance policy for them to take care of their medicals which can be renewed after one year.
"Today, we did a general test to ensure that patient know their edical status.
"When they get to hospitals, drugs will be given to them for free because LASG has already made payment in conjunction with UNICEF," she said 
Earlier, Dr Sunday Elushakin, Medical team leader, said the programme was initiated by the governor who ensure that it has a Ministry, that goes to every local government to sensitise residents on their medical awareness.
"The health care program was initiated by the Lagos State Governor, with a mission to sensitise people on medical awareness.
"We also sensitise them to log into our LASHMA website so that on yearly basis they can enjoy access to free medical facility," he said.
Mrs Kofoworola Osho and Morenikeji Sokenu,  who were beneficiaries commended LASG for the gesture and urges others to go and sensitise others.
Citizens Compass reports that palliatives such as snacks, Rice and Gari were distributed to some of the beneficiaries at the end of the programme