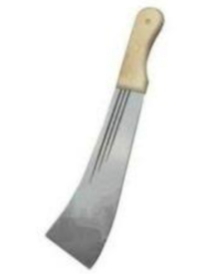 Crime
Court arraigns man for cutting off neighbour's wrist over affair with wife
CITIZENS COMPASS —Kwara State Magistrates Court sitting in Ilorin on Thursday, arraigned a farmer, Oro Umaru of Ba'abete Fulani Camp in Kaiama Local Government Area of the State over alleged culpable homicide.
Umaru was accused of cutting the wrist of one Abubakar Sanda who was his close neighbour in the Fulani Camp in the LGA over an allegation of having an affair with his (Umaru's) wife.
He was arraigned on a one-count charge of attempted culpable homicide contrary to section 299 of the penal code laws of Nigeria.
According to the Police First Information Report, the case was reported by the brother of the victim, Sanda Mohammed.
That on 08/9/2023 at 2030hrs, one Sanda Mohammed 'm' of Ba'abete Fulani camp via Kaiama reported at Kaiama Police Station, that on the same date at about 1200hrs, while his younger brothers one Abubakar Sanda 'm' of the same address was returning from Kaiama kara market to the house, he was accosted and macheted by one Oro Umaru 'm' of the same address and in the process Abubakar Sanda's right wrist was severed off the hand.
"Immediate Police action led to the arrest of Oro Umaru. During a discreet investigation at the Criminal Investigation Department, You Oro Umar confessed that you and Abubakar Sanda were living very close to each other and that sometime in the year 2022 you suspected Abubakar Sanda of having an affair with your wife, Fatima Oro, and that you have caught them on several occasion of which you reported same to your father, one Alhaji Hamadu but nothing was done.
You confessed further that on 06/9/2023 at about 2200hrs, you caught Abubakar Sanda discussing with your wife, Fatima and that when Abubakar Sanda sighted you coming in that direction, he took to his heels.
You Oro Umaru further confessed that on 08/09/2023 you went and attacked Abubakar Sanda in his house and in the process you macheted him and severely cut off his right wrist and also macheted him on the forehead," the charge sheet further added.
The plea of the accused person was not taken by the court but the police prosecutor, Gbenga Ayeni, urged the court to remand the suspect to the Federal Correctional facility pending the time when investigation on the matter would be concluded.
In her ruling, trial magistrate, Gbadeyan Kamson, ordered the remand of the suspect and adjourned the case till October 11, 2023.