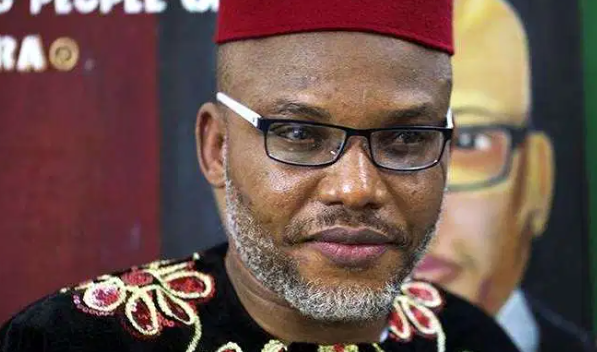 General News
Court dismisses bail application for Nnamdi Kanu
THE Federal High Court in Abuja, again, on Tuesday, dismissed the bail request filed by Nnamdi Kanu, leader of the Indigenous People of Biafra (IPOB).
It was the second time in a row the court would turn down the bail request by the IPOB leader, who faces seven terrorism-related charges.
Ruling on Tuesday, the judge, Binta Nyako, held that Mr Kanu's second bail request amounts to an abuse of court process, after a similar application was rejected on May 18.
"The present application amounts to an abuse of court process for attempting to relitigate an issue already decided by the court."
Mrs Nyako had revoked the IPOB leader and asked him to give reasons for his absence from court since 2017.
PREMIUM TIMES reported that the court had ordered Mr Kanu's arrest in March 2019 after adjudging him to have jumped bail.
The arrest order came months after the IPOB leader fled the country in the wake of the invasion of his home by soldiers in Afara-Ukwu, near Umuahia, Abia State, in September 2017.
Justifying his client's escape from the country, Mr Kanu's lead counsel, Mike Ozekhome, had argued that the IPOB leader's absence from court was as a result of the invasion of his home by the Nigerian Army.