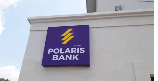 CITIZENS COMPASS– AN Ondo State High Court, sitting in Akure, has granted a garnishee order, directing the Central Bank of Nigeria to freeze the account of Polaris Bank to the extent of judgment debt of over N2bn.
The bank was said to have owed the state government the sum of N2,162,561,509.84
The court gave the order following an application moved by the state Attorney General and Commissioner for Justice Ondo State, Mr Charles Titiloye.
The commissioner applied for the garnishee order nisi in the suit No AK/75/2017, attaching all the sums of indebtedness of Polaris Bank to Ondo State Government
Delivering the judgment, the judge, Justice A. Adebususi, said the bank was liable for mismanaging the account of Ondo State Ministry for Local Government and Chieftaincy affairs.
The court held in its judgment that Polaris Bank made unlawful deductions from the government account with the bank and ordered a refund and payment of the damages.
It was gathered that a court had earlier granted a stay of execution of its judgment pending an appeal on the condition that the bank made payment of the judgement debt to an account held by the Registrar of the court.