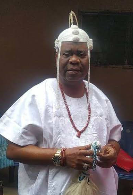 By Eniolorunopa Oyedele
CITIZENS COMPASS– A suit filed by Pastor Olanrewaju Amos Idowu, seeking to disqualify His Royal Highness, Oba Edward Kolawole Adejoyegbe Adewole Osalade II as the Osolo of Isolo Land in Akure South Local Government, Ondo State, has been struck out.
The suit was struck out on Thursday February 16, 2023.
Idowu had sued the Deji of Akure Oba Aladetoyinbo Ogunlade Aladelusi, Odundun II, as first defendant and Oba Adewole as second defendant along with several other defendants including the Governor of Ondo State Mr. Oluwarotimi Akeredolu (SAN), his Deputy, Hon. Lucky Aiyedatiwa, the state Attorney General and Commissioner for Justice, Commissioner for Local Government and Chieftaincy Affairs and the Chairman, Akure South Local Government, as other defendants.
He had brought two prayers before the Justice Olamide's Court 7, first of which is seeking an injunction to stop the installation by Ondo State Government of Oba Edward Adewole as the authentic candidate for the stool of Osolo of Isolo, an autonomous community in Akure South Local Government Area of core South West state.
By the second suit, he is seeking among other things the court's declaration that Oba Adewole was a chief installed by the Deji of Akure and therefore that he (Pastor Idowu) was the rightful Oba elected by the Isolo town's kingmakers, claims that he would have to prove beyond reasonable doubts before the court of law.
Remarkably, none of the defendants was present in court when the hearing of the suits resumed on Wednesday except the second defendant, Oba Adewole himself accompanied by his lawyer, Barrister Adelanke Akinrata.
As the proceedings began, the plaintiff, represented by his counsel, Barrister Olumide Ogidan, approached the court with an application to withdraw the first suit seeking injunction to dethrone Oba Edward Adewole and the judge, having asked the second defendant's lawyer if he had any objection and he said no, declared, "the case is here by struck out".
In accepting the withdrawal of the motion, Oba Adewole's lawyer, Akinrata, prayed that Pastor Amos Idowu's lawyer, Ogidan, be made to pay back the N15,000 he spent to file his reply to him, a prayer that was granted but with an adjustment downward to N10,000.
Hearing on his second prayer before the court was however adjourned till March 16.
Citizens Compass reports that having been duly elected, confirmed and presented by the kingmakers and Isolo Council of Chiefs as Osolo of Isolo, Oba Edward Kolawole Adejoyegbe Adewole Osalade II, captured among the upgraded Obas by the Justice Ajama Commission of Enquiry Report and subsequently approved by the Ondo State Government's White Paper mid-2022, was presented his Staff of Office and Instrument of Office by Governor Oluwarotimi Akeredolu (SAN) on Thursday December 15, 2022.