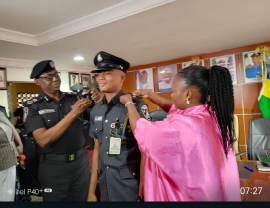 Security
CP Owohunwa decorates newly promoted 1,400 ASPs
… trains police on  
CITIZENS COMPASS – Lagos State Police Command has decorated 1, 400 policemen who were previously on the Inspectorate cadre and were promoted to the rank of Assistant Superintendent of Police (ASP) which brings them into the strategic, decision-making cadre in the Force.
The decoration ceremony which was held at the Command HQ conference hall had all the members of the police management team and other senior officers in attendance. The event had the General Manager of Lagos State Emergency Management Agency (LASEMA), Dr. Femi Oke-Osanyintolu as Special Guest.
In his address at the decoration ceremony, CP Idowu Owohunwa said: 'Today represents another highpoint in my leadership in Lagos state. There is nothing that motivates a policeman like promotion as at when due. The greatest honour I can expect in this Command is to supervise the promotion of my officers who have demonstrated consistent professional excellence, good service record, and moral strength in the discharge of their functions. I have had the opportunity to do this on 2 to 3 occasions but this one is particularly unique to me because it is about the highest that I will be decorating as CP in Lagos. By the Grace of God we are inducting a total of 1400 Inspectors to the officer cadre of Nigeria Police Force.'
'This means a lot because they are transiting from Inspectorate cadre to strategic, decision-making areas. There is a wide difference between being an Inspector and an ASP. It comes with obligations in terms of conduct, professional outlook, ability to dissect internal security issues and take decisions that will align with the law and the citizens they serve. Now there is no more excuse', National Association of Online Security News Publishers, NAOSNP gathered from the no. 1 cop in Lagos.
Establishing that the promotion fits into the plan of IGP Kayode Adeolu Egbetokun for the Nigeria Police, CP Idowu Owohunwa noted: 'IGP Kayode Adeolu Egbetokun has said that promotion under his watch will be based largely on merit and seniority and you will be the first to benefit from this policy. To whom much is given, much is expected, the IGP stands on high moral grounds and he expects his followers to manifest excellence in conduct at all times. I appeal to you to see this promotion as another step in your bright career. Be guided by the fact that certain values brought you here, don't change those values. Excesses will not bring you down. I welcome you to the prestigious officer cadre.'
Celebrating with the Lagos Police Command, the GM of LASEMA, Femi Oke-Osanyintolu remarked: 'I am privileged to be here. Your reputable organization has been working hand in hand with Lagos State Government through Lagos State Emergency Management Agency (LASEMA) in terms of safety of lives and properties. There is no doubt of the confidence we have in you which clearly shows in the officers that you produce. I wish you all the best as you do this unique, professional job. Keep the flag flying.'
NAOSNP can also report that event afforded the Lagos CP the opportunity to officially receive Lagos officers who performed very well at the IGP Taekwondo Championship which was held in Bayelsa state recently. The Lagos contingent won 2 silver and 6 bronze medals at the competition. Celebrating the sporty police officers, CP Owohunwa said: 'Lagos state is defined as a centre of excellence. We take the lead in everything positive. You have shown resilience, excellence and have conquered. You have made us proud. I congratulate you.'
On the idea of self-defense mechanism for police officers, CP Owohunwa hinted: 'We can leverage on your sporting excellence for our policing. We are looking at possibility of your expertise to enhance self-defence capacity of officers in this command. In the coming days, we will look at training to expose officers so that an average policeman can apply that for self-defense.'