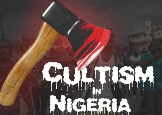 Crime
Cultists kill policeman in Ikorodu 
CITIZENS COMPASS– Police are on the trail of some suspected cultists who attacked some Policemen on Ito-ikin Road, Imota area of Ikorodu killing one of them, a Superior Police Offficer. 
This occurred in the night of Friday, April 7, 2023, at Emuren junction when the policemen attached to Imota Division were performing their duties. 
It was learnt that the cultists took the policemen unawares, opened fire on them and killed one of them. 
The assailants were said to have escaped with the riffle of the slain policeman.
As at the time of filing this report, it was learnt that no arrest had been made of the dastardly act .
Sources hinted that , " It happened on Friday   night of April 7, 2023. The cultists took the policemen unawares. They opened fire on them and escaped with the  riffle of the slain policeman.
" On Saturday, April 8,2023, policemen raided the cultists hideout in Emuren, Shagamu Local government area of Ogun State.  These cultists are errand boys for land grabbers in Ikorodu".
Owing to the incident, there was palpable fear around Imota and its environment for fear of the unknown. 
During a visit to Emuren, palpable fear was noticed as people were afraid of discussing the incident especially with strangers. 
A local vigilante man, Pius Ale said series of cultists attacks have been recorded in some parts of Ikorodu especially Imota.
" Cultism in Ikorodu is no big deal as cultists fear nobody and operate at will. 
" They have shed innocent lives and Police seem to be helpless but now that they have started attacking uniform men, I think government will find solution to the menace." 
He called on government at all levels to provide maximum security in the area.
"Imota is in the outskirts and the cultists take tbe advantage to strike at will.
" Besides, they have God fathers who can easily bail them incase of arrests. "  He said. 
About two years ago, the then Lagos State Commissioner of Police, Hakeem Odumosu, held a town hall meeting with the six local local government and council development areas witb traditional rulers, community ddvooment associations, security outfits and all other stakeholders in attendance.
Major highlights of the meeting was on the need to fight cultism to a strand still. 
The meeting recorded some achievement for a while until fresh attacks resurfaced. 
Some Ikorodu residents said the cultists are been sponsored by some land grabbers who use them to take possession of landed properties across Ikorodu. 
The menace has gradually extendied to neighbouring communities in Ogun State.
Spokesperson, Lagos State Police Command, Benjamin Hundeyin has since confirmed the incident.