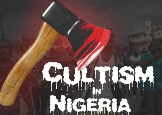 CITIZENS COMPASS –  RESIDENTS of Ire-Akari Estate and its environs in Isolo Local Council Development Area (LCDA) of Lagos State, now live on fear as activities of cultists had ravaged their area.
According to residents, the cult groups continually torment and extort residents, unhindered.
It was learnt that the recent clash which occurred on Sunday, May 22, 2023, , intensified and sent shivers among residents as the cultists blocked Ire-Akari road while residents scampered to safety.
Unconfirmed sources said one person was killed in the clash.
An eyewitness and business owner at Ire Akari road, Ngozi Chijoke said the incident has been happening for some years now, but it is now happening frequent.
She said: "They started their fight yesterday at about 7:00p.m. from one junction to another. We can't move freely most nights because anywhere you go, you encounter them, they will collect all your belongings.
"We have called the police attention to this many times and they never respond to our calls. Is it until they kill us in our places of work?" she queried.
Chijoke called on the traditional ruler of the town to intervene in the matter and make sure peace reigns in the community.
Another resident, Friday Uba, said the cultists are now bigger than local security personnel employed in the area.
He alleged that the cultists have no fear for any security officers because they know if they arrest them, they would be released in weeks because their parents are well-known figures in the community.
"It is so obvious that the parents of these guys are highly respected figures in the communities that is why they are not afraid to come out with arms to rob and fight themselves, even during the day," he said.
Lamenting the situation, a student of Lagos State Polytechnic Isolo campus, Doris Adeyemi, regretted renting an apartment at Isolo.
She said:  "I have been molested severally for refusing sexual advances by the cultists. Their activities are now carried out in broad daylight with residents living in fear of being killed if they speak out. We plead with the state authorities to intervene and save our life and property as we now live in fear.
"If they accost you in broad daylight and you refuse to do their biddings, they either slap and molest you, especially if you are a lady."
When contacted, spokeserson, Lagos State Police Command, Benjamin Hundeyin, said the police were not aware of the such.
He pledged to contact the Divisional Police Officers (DPOs) of the affected area for updates.
But the DPO of Aswani Police Division, Adeleke Ojajuni, said when he was contacted on Sunday night about the incident, he mobilised his men to the area, but one of his men was injured.
Ojajuni promised to curb the activities as soon as possible.
–The Guardian