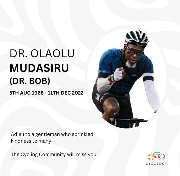 CITIZENS COMPASS– CYCOLOGY Cycling Club on Monday, mourned the death of deputy managing director and co-founder of Vetiva Capital Management, Olaolu Mudasiru in Lagos.
He was reportedly killed on Sunday morning while cycling with two other persons on the Bourdilion Road in the Ikoyi area of Lagos State.
The Vetiva co-founder was also the first son of Gbolahan Mudasiru, a former military governor of Lagos state, who died in 2003.
The cycling club on its verified Facebook page posted,
We're still learning to cope with the unexpected passing of our dear friend Dr Olaolu Mudasiru (Dr. Bob)
"Dr. Bob, your memory and legacy will live on in our hearts forever.
"Ride on! "