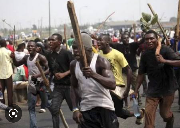 CITIZENS COMPASS– A clash between some hoodlums and security operatives in Ilorin, Kwara State, on Saturday,, has led to the closure of Mandate Market in the area.
Kwara State Government said the market would be reopen on Monday, March 27, 2023.
Mandate Market was shut down when the hoodlums took advantage of the clash to vandalise property carting away valuables around the market.
The state government ordered the following the skirmishes in the major trading centre.
Commissioner for Business, Innovation and Technology, Malam Ibrahim Akaje, stated in Ilorin on Saturday that the market would be re-opened on Monday.
"Government has restored normalcy to the market after the initial tension and opportunist attacks by hoodlums on peoples' properties.
" Government hereby directs temporary closure of the market for security reasons pending resolution of some issues that triggered the disturbances.
" Government commends the prompt response of security agencies to distress calls from shop owners. We warn against further trouble from any quarters.
"The market and activities of everyone involved therein are regulated by laws, which must be respected by all,'' he stated.
" Scores of people were injured in the skirmishes as law enforcement agents and suspected shop breakers clashed at the market on Saturday.
Some shop owners had complained to security agencies that petty traders, guards, cleaners or load carriers who resided in the market always broke into the shops in the night.
Police operatives consequently raided the market and arrested some suspects whose kinsmen insisted must be released, a situation which degenerated into the fracas between them and the operatives.
A reinforcement of security operatives including the police, men of the Nigeria Security and Civil Defence Corps (NSCDC) were despatched to the market to bring the situation under control.
Spokesman of the NSCDC in Kwara, Mr Ayeni Olasunkanmi, told the News Agency of Nigeria (NAN) that the fracas was an aftermath of a raid earlier carried out by the police.
"It was the aftermath of a raid carried out by the police in the market because of complaints from shop owners that some people regularly broke into their shops at night.
"Kinsmen of the arrested suspects insisted that the police must release those arrested.
" The situation there is under control. Other sister agencies are there to ensure that the situation remains calm,'' he said.
Police spokesman in Kwara, SP Okasanmi Ajayi, also told NAN that the breach of public peace in the market was caused by "a misunderstanding between two groups of tomatoes and pepper sellers.
"No casualty has been recorded in the fracas so far,'' he said.
–NAN