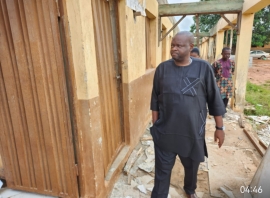 Community
Daini renovate classrooms in Methodist Primary School
… constructs restroom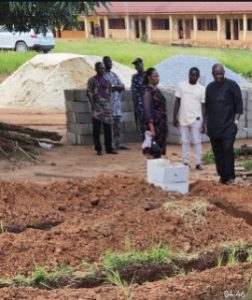 CITIZENS COMPASS — The Council Chairman, Igbogbo-Baiyeku Local Council Development Area (LCD), Ikorodu Division in Lagos State, Olusesan Mayokun Daini, has commenced renovation of a block of five classrooms at Methodist Primary School, along Oba Molaja Ogunlewe road, Igbogbo. 
The Chairman also did the ground breaking of modern rest rooms in the School. 
According to Daini, the projects are in fulfillment of his campaign promises to the electorate before he assumed office. 
He said earlier, he had embarked on a tour of the LCDA to ascertain pressing needs in the LCDA. 
Recall that in September 2023, during the donation of educational materials to 13 primary schools in the LCDA, Daini promised to consolidate this by renovating some of the schools which he kicked off with Methodist Primary School on Tuesday, October 3, 2023. 
In a chat with our Correspondent, the Council boss popularly known as Builder Sesan Daini, said the block of five classrooms will be fully equipped for the comfort of the pupils. 
On what informed his decision to embark on developmental projects in schools, he said,
Education is the bedrock of any nation and primary education is a foundation we must not miss. 
" Insecurity, good character and thinking,  love for the Nation can all be addressed better from primary education. " said the Council chairman. 
The renovation project is expected to be completed within the next 51 days, ensuring that the students will soon have access to improved facilities in the School. 
He urged all stakeholders to support the vision of enhancing sanity to schools. 
Daini was at the event alongside Council officials.