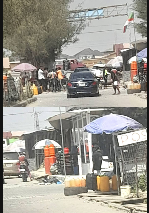 CITIZENS COMPASS– RESIDENTS of Ikota, near Lekki/Epe Express way, Lagos, have raised the alarm over infiltration of fuel hawkers into their residential homes.
The residents who took to the social media platforms on Wednesday, to express their feelings said this may expose the community to danger as the product is freely sold by the hawkers.
When Citizens Compass contacted some of the residents, they claimed that
areas mostly hit are Road One and neighbourhood areas.
A resident, Cosmos Shylon said he has drawn the attention of law enforcement agents to the development but they tend to look the other way as hawking of fuel thrives in the area. He said, "law enforcement agents do pass here and I have stopped them twice to draw their attention to the impending danger but no action was taken," he said.
Another resident who spoke on the condition of anonymity said the hawkers usually boast that nobody can stop their operation in the area.
He said a litre of fuel is being sold between N350 and N500 by the hawkers.
One of the public outcry sighted by our correspondent reads, "Prevention is cheaper than fighting crime Please help us remove these fuel sellers in our residential neighbourhood at Road One, off Lekki/Epe Express way, (Before Mega Chicken turning) Ikota. Already, there're cooking gas sellers, suya sellers, vulcanizers and igbo smokers all packed together on the same street. Residents are in GRAVE DANGER. Do not wait untill there's a tragedy before action is taken, please."I
Located in Eti-Osa Local Government, Ikota is a residential neighbourhood in Lekki which is portioned into two, the hub of the affluent and the hub of the low-income earners.
Major roads in the area are motorable and the power supply is good. For those who work in Lekki, living in Ikota is a plus because they will experience little or no traffic to and from work. The neighbourhood is serene and highly accessible.