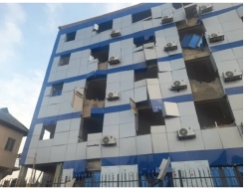 CITIZENS COMPASS —THE administration of Governor Dapo Abiodun of Ogun State has demolished DATKEM Plaza, owned by Yeye Olufunke, the wife of Senator Gbenga Daniel.
The mall, located on Folagbade Street in Ijebu Ode, Ogun State, was demolished within three days of notification.
The Project Manager and Developer, Engr. Olusegun Lawal, who is of Adeolumi Environmental Services Limited, made this known in a statement on Sunday.
Lawal said the plaza is an iconic, solid structure with full approval, whose construction started in 2009 and was scheduled for commissioning at the end of September.
He said the ground floor and mezzanine is a banking hall fully fitted with bank trap doors, and CHUBB strong room, adding that it had a Kone elevator installed by Kresta Laurel Limited, another company owned by Daniel, a former two-term Governor of Ogun State.
The Project Manager said about 80 brand new split air-conditioners just completely installed by Holomicool Nigeria Limited were also destroyed alongside the building with a 150 KVA generator set and transformer.
A fire fighting system installed by Flory Limited and external cladding being completed by Vertex Nigeria Limited also went down.
Revealing the reasons adduced by the Abiodun led State Government gave as to why it demolished the plaza owned by Yeye Daniel, Lawal said: "Not enough parking space (front of Building is Folagbade Street, sided by two (2) undeveloped streets which is being prepared by the Developers to be tarred to support parking while the empty piece of land at the back is being negotiated for lease to complement car parking.
Inadequate Muster Point: Muster point is any space outside the building where people can gather in case of fire or emergency. There is ample space around the building that can be used as Muster Point.
"Inadequate Airspace. This is a new one. But there is enough airspace as there is no single adjoining building around the four sides of the building.
"There is also no concrete fence but only metal grills to ensure proper airflow.
"It must be noted that there are other buildings with the vicinity that does not even come close in terms of compliance on safety matters.
"All these information are known by the relevant personnel of Government in ongoing discussions."
Lawal further informed that the notice to demolish the plaza owned by Daniel from the government was just three days, adding that the bulldozers of the Abiodun led government moved in at 3am on Sunday and was still working at the time he issued the statement.
He put the cost of the building at N1 billion, with about 100 workmen, who are Nigerians, on the site.
Lawal added that the third floor of the plaza was to house the Ogun East Senatorial District office of Otunba Daniel, adding: "There are no single structural defects on the building and ALL relevant and necessary government approvals have been obtained."
– The Eagle Online